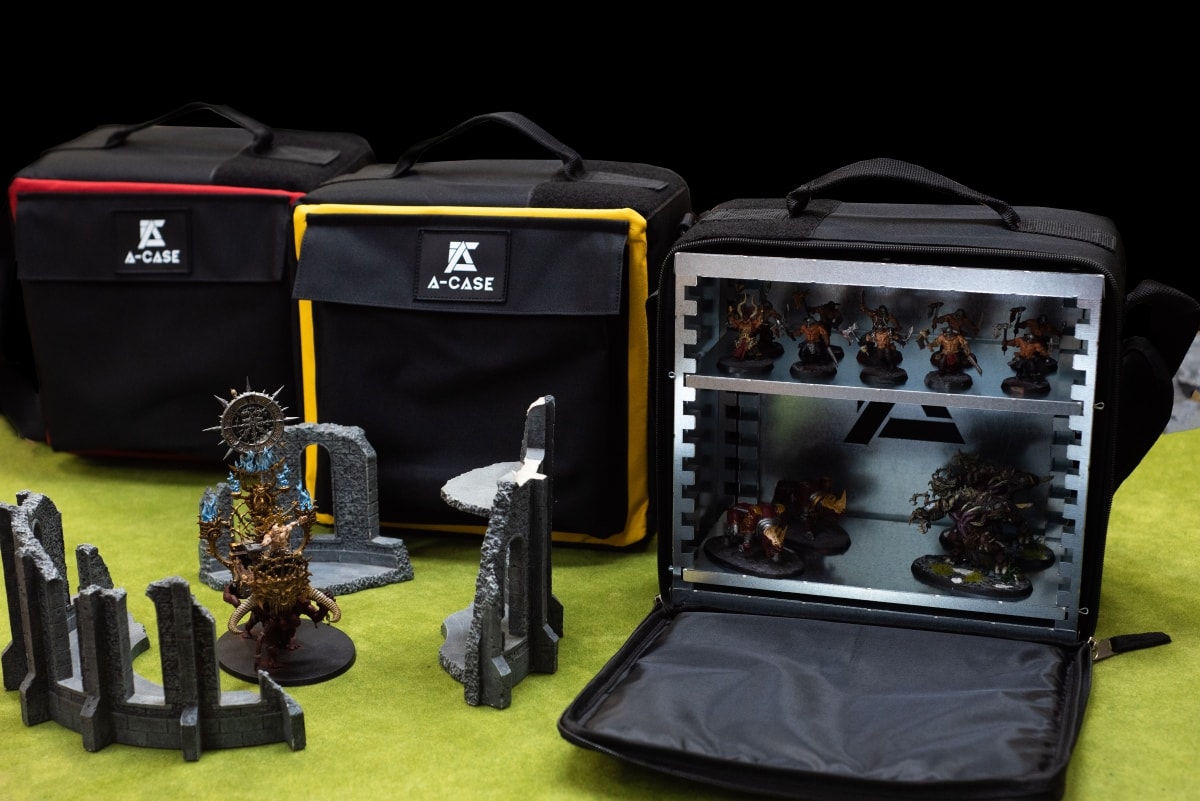 Many people have a different approach when it comes to looking after their plastic miniatures. Until now, there has no been found out a perfect solution or way to do it. First of all, it depends on what we want to use our minis for. The choice of a case would depend whether we just want to display our miniatures, compete in wargames, just wish for storage that would make putting in and out easier. We are gonna share some pros and cons of the solutions that are considered as mostly used by minis enthusiasts.
Options of storing miniatures
As mentioned above, ways of storing will depend on the usage aim, travelling distance and advantages we want to obtain when deciding which option will best fit your needs.
Foams
It is probably the most common way when it comes to store your miniatures just at home or when you don't take them out frequently. At the same time, it is the fastest and the easiest solution. Sometimes, we can find foams that are perfectly shaped for the game. They are mainly produced by the companies that produce the games as well. If not, on the market, there are many third-party companies create foams to which, the miniature figures fit in. One of the advantages of using foam is the possibility of putting it into a travel bag or a box and it does not essentially have to be an original miniature carrying case. This type of foam is called 'pick and pluck' that means we are free to pluck out as much foam as it is needed. It is a technique that is used as pre-made inserts. All the more, you can always keep the waste in order to cover and protect the amazing miniatures that are not mentioned to fit into the insert or they simply do not fit in it. Besides, you are able to do it all by yourself. Just order or buy a larger piece of foam and cut it around the minis. The disadvantage of using foam is rubbing away the paint. The more frequently you can them in and out, the faster the paint will rub away what might make the figures look neglected. Sometimes, especially in the beginning, you may forget your perfect layout and it might take you a little bit longer to put them all back at their place. Therefore, it is recommended to take a picture of your ideal way of arranging your army in the foam.
Boxes from plastic
In any hardware store, there are plenty of plastic boxes that are used for several purposes. There is a wide range of plastic boxes on the market that are made in different shapes, sizes and colours. People used it mainly to store clothes, toys, papers or tiny items. However, it is also a good solution for board games' fans. Dedicated boxes, such as screw boxes, ornament boxes and tackle boxes usually have compartments which can be used accordingly to the needs. Some of them are equipped with moveable slots that can be moved as the owner desires. In this way, they are perfectly personalized to the user.
Other types of boxes are the ones with wheels. They are kind of trolley-looking and can freely be used when traveling with your minis. They will serve you well when you have a big collection. Additionally, they would contain foam inserts, magnets and magnetic trays.
So far, we have talked about great collections, so let's move on and take a lot at storing only one miniature in a box. This kind of storage boxes can be classified as display boxes. Certainly, they are not meant to transport the miniature figures since they will just protect your minis from dust or minor scratches. There is no tray or foam to comprehensively protect your treasures. You will probably need to slightly modify the interior because to store a mini on a shelf or just to display it, there is no primal need of equipping it with more materials than just plastic sides. You may need bubble wrap, foam or some other soft materials. Due to the wide range of boxes available, you might find it difficult to choose the perfect one that will exactly meet your expectations. Nonetheless, it is all about creativity and imagination. Try to imagine your dreamed single display tackle box and think about how to make it real. Consider all the possible solutions and options.
Magnets for minis
Magnets are doubtless the effortless solution to transport all the miniatures without the fear of the minis moving or even sliding to the sides. An idea is to glue magnets to the base of the figures what will make them immovable and stuck in one place. As always, there are some downsides when using magnets. For example, when you go to a convention or games tournament, you will most probably have to pass by an x-ray machine and surely, your miniature storage will get checked by the security staff. Considering the polarity, make sure to double check if you have done it correctly.
Custom thermoforming
Most commonly known as vacuum formed plastic. Until now, there has been no manufacturer that would personalize the box to a game or armies. They would only send you moulded plastic form in a box and the miniatures will fit perfectly. Moreover, you can use the packing they it in. It will make the traveling with the figures much easier, so remember not to throw it out.
Inserts from wood and cut by laser
They usually are designed to meet the size requirements of a game, for i.e. Warhammer 40K. When it comes to wooden inserts, they are customized in a way that each miniature has its divider. You can share the inserts or trays between your minis unless they fit to the dividers, so it is a quite interchangeable tool. On the other hand, there is no tray or magnets that would immobilize the miniatures. Thus, there is a risk that they will move around when transporting them. You can always add some bubble wrap or foam to lower the probability of sliding and moving by them.
Display cases
It is simply designed to let you enjoy looking at your miniatures. This kind of cases are meant for enthusiasts who mainly collect some kind of special miniatures that mainly are not supposed to take part in the games or tournaments. Display cases only protect store minis from dust since there is no foam or any other additional protection. They look like transparent cubes where one of the wall opens up in order to place or put out a miniature. Instead of a display case, you can get an old-fashioned glass cabinets or wooden display stands. Modifying the cases is up to you and your creativity. An idea to implement is, for example, using leds to even more underline the importance of your favorite miniature figure. However, you will always have to remember to keep away the case out of direct sunlight because it may have a negative impact on the painting of the miniatures that are to be stored inside.
Storage cases
In cases that you are more into building an army instead of just collecting minis, then this option may happen to be the one suitable for your needs. The idea is partially based on tackle boxes but you will find it much more secure and accurate, especially when you need traveling around with your precious painted miniatures. There are a few companies on the market that produce the carrying cases specially designed to store and transport the figures. In most cases, you will find one or more trays and foam, where trays are meant to let you put inside as many minis as possible, while the foam protects them from damages or scratches. Army Case company came up with a revolutionary idea of implementing a magnetic system into their trays that allow you to stick minis to them using magnets (you don't need foam trays). what makes your treasure immovable all the time when they are placed inside the carrying bag. You can modify the number of the shelves by yourself and when needed, order next ones on the website. The steel frame is lightweight, water resistant and durable. The whole set is finished with a comfortable handle and looks a regular travelling bag. Army Case launched A-Case series that consists of three types of cases that are dedicated to fans of tabletop games. The features are pretty similar, but they differ by size. A-Case Hybrid Messenger and A-Case Victory can fit up to 360 miniatures regardless the game. They all weigh around 3 kg without filling. Moreover, the bags have perfect sizes that fit as carry-on luggage. On the website, you can choose the colour of the bags, but the frame always remains black. Thanks to the magnetic system, it makes the company's product original and unique. You are free to customize the amount of the foam and number of the trays to your personal needs or requirements. Army Case offers free shipping all over the world now.
No matter which options you will choose and what opinions you share, you should mind some rules when you are into collecting miniatures to keep them as long as possible in excellent condition. First of all (for painters), remember not to choose the cheapest pigments that may rub away quite fast in the end. Secondly, you really should remember about the sunlight. Your unpainted miniatures don't like it as much as cleaning supplies that may harm or even damage them. Find out more about cleaning miniatures on special forums, where the users are already experienced in the topic. Thirdly, a bad case is better than no case. No matter how unsatisfied you are with your case, it still more or less, protects minis. Fourthly, try to put them in and out possibly the least frequently. Every touch gets you closer to rub the painting away.
Check the rest our blog posts: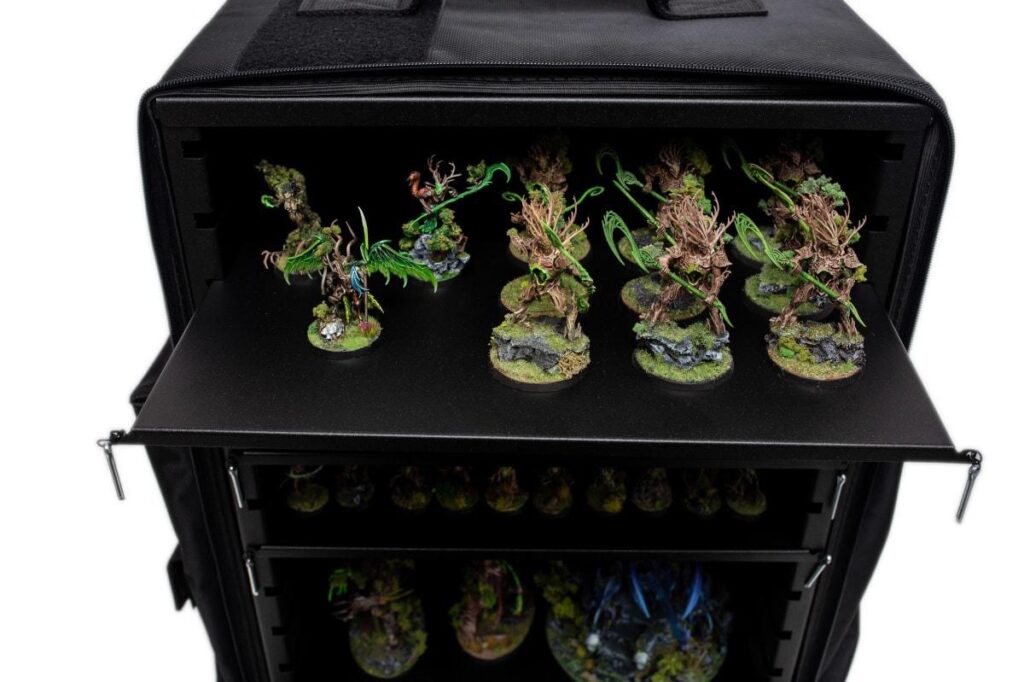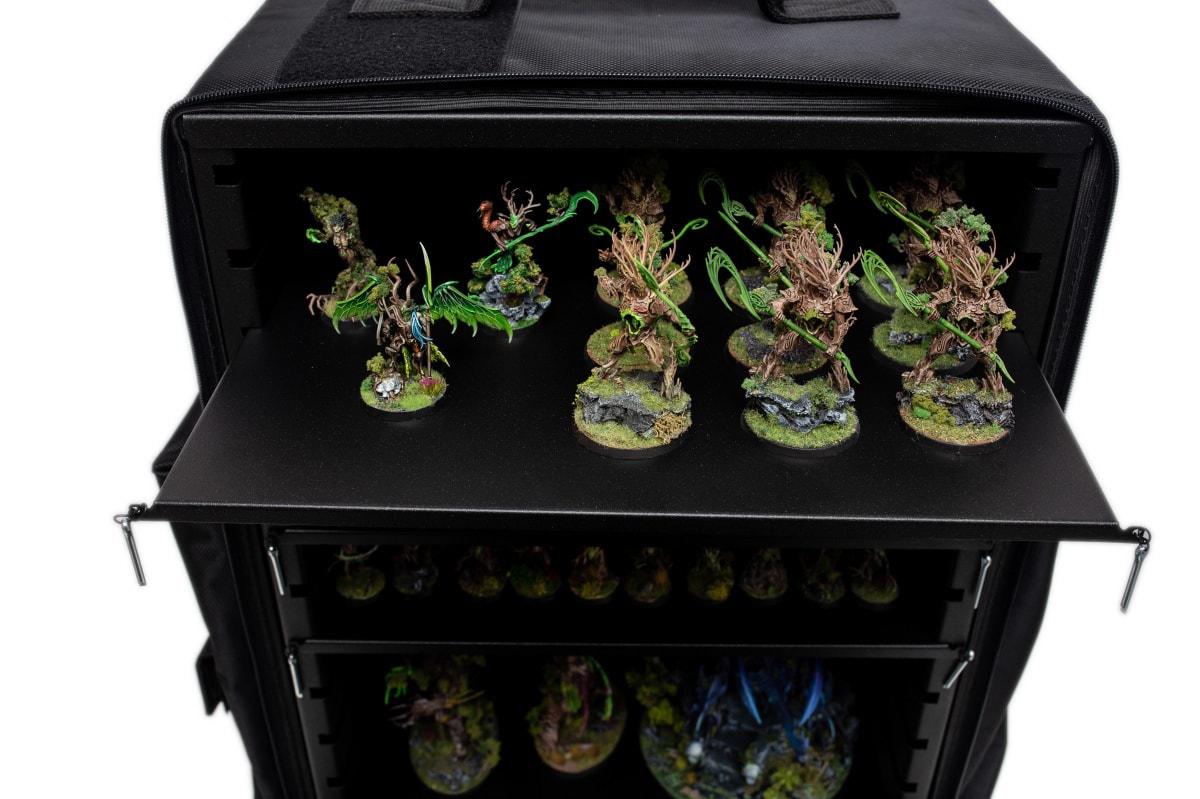 You spent countless hours working on your miniatures and models. Tabletop wargamer? Scale Modeler? Collector?…