Description
Have you ever wondered how it is possible that the figures used in table games are so precisely and perfectly painted? Painting miniatures is a very popular hobby, especially among table wargame lovers. Many of them spend hours each day brushing, polishing and coating the figures with different layers of paint. This work definitely requires great precision, sharp eyesight and patience, as well as extraordinary manual skills. Hobbyist painters should follow the guidelines that are used to paint figurines in these types of games, but some people get fancy and thus learn new things, such as new painting techniques, for example. The effects of their own creativity are overwhelming and more and more users decide to try their hand at it. To make this easier, it's a good idea to be open to using new tools and trying out different methods. For example, for detailed painting of war games, you can use special painting handles. Check now what we can offer you!
What is the magnetic miniature painting handle? Specification
The magnet paint holders are user friendly and made for both beginners and experienced painters. They are suitable for detailed painting and for preparing your favorite miniatures before painting them.
As a small company, we do not have access to injection molding as it is associated with a very high purchase cost. That is why we decided to produce the painting handles
as 3D printed elements. This allows us to keep production at home and under our control. It also removes logistic and financial risks related to the outsourcing of production in other countries.
Our model has been designed to fulfill its purpose in each case. It has 5 different heads that can be applied to different figures depending on their size and shape. The magnetic precise miniature holder is light and handy, and its weight is only 41 grams. We produce it in various color variants – black, blue, gray, red, green, pink, orange and yellow.
MPG is delivered with integrated steel plates and magnets that would not be achievable with other technology in one single product.
Our handle has been thoroughly tested by many testers before it was put into use. All opinions were taken into account in order to meet the expectations of users and future customers as much as possible.
How is the paint handle constructed?
The main material used in our project is high strength abs plastic. It is thanks to him that our miniature holders are light and handy. It was printed on a 3D printer and then polished to make it look perfect. In the central part of the painting handle, there is a magnet and a steel plate, which combine with each other to ensure that the head is kept in an optimal position. The handle is attached to the head, offered by us in 5 shapes. They have been tailored to the needs and preferences of painting. With the help of two fingers, the head can be rotated around its axis. At the very top of the painting handle, there is also a steel plate to which we attach our figurine.
Some of our beta testers picked their favorite shape straight away, while some could not choose just one and some liked them all! In addition, the variety of our paint heads helps you organize larger projects by placing the same units on the same paint heads to achieve similar results.
How to use miniature painting holder?
The painting handle is so handy that it fits easily in the hand or can stand steadily on any surface. Just hold miniatures in one of your hands, you can move it freely, being sure that the figure on the top of the handle will keep its position at all times.
While painting, you can easily change the type of head and attach another thumbnail, or change them at will. By keeping the figures on the stand, you can prepare amazing figures for all the skirmishes by hand painting and even airbrushing.
What type of models can you paint using miniature holder for painting?
The number of figurines on the market is huge and they are used for all kinds of games. Figures that can be painted with our device are used, among others, in the games of Warhammer, Kill Team, Necromundy, Star Wars: Legion.
The list does not end there, however. The painting handle is universal enough and due to the special ergonomic grip rotate your mini 360 degrees easily. The batch paint holder lies safely and comfortably in the hand to be also used in other types of games. It is suitable for any miniature versions of figures – you can attach miniatures in small size as well as their bigger sizes (larger models) to paint multiple models and shapes. Perfect for batch painting miniatures. It really allows you to paint taller miniatures and keep correct painting position
.
Why do you need miniature holder for painting?
A special 3D printed magnetic thumbnail most versatile painting holder provides a stable new ergonomic grip mode and easy access to the model from all sides and angles. Using it allows for a better workflow and better painting results. Using the ergonomic painting handle, even the smallest miniature can be held comfortably while painting without the risk of overweighting. It is also convenient for left-handed miniature painters. Perfect to keep your painting hand stabile and brush control when you paint models.
Typically table war games contain entire armies, in this case a magnetic holder, allowing you to work with multiple figures at the same time.
Good miniature holder when you do batch painting troops.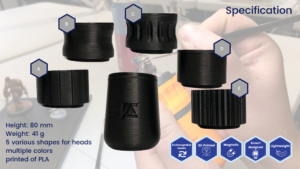 Features of a good paint holder
1. Precise positioning during work
It may seem quite funny, but some of the miniature holders offered on the market are not stable and during painting the figure, experiencing even slight vibrations, may not guarantee the expected results, and thus even lead to damage or loss of time by removing the previous layers of paint.
2. No possibility of damaging the figurine
Oh yes! The cost of the figurine itself is not low, so we want to make sure that when improving its image, it does not suffer any scratches, abrasions, bumps or other damage.
3. Comfortable handle to perform work in all conditions
In the case of many hours of work, we want to enjoy it by relaxing while doing something for ourselves. If the painting handle does not meet our requirements, it will lead to discouragement and abandonment of work. It gives you the most enjoyable and precise painting experience ever.
4. Easy to quickly change thumbnails and their rotation
The painting handle must make our work as easy as possible. Ease and maneuverability are a priority so as not to waste time tediously rearranging the heads with figures. When painting them, we must have access to every part of the figurine, both from the side and from the top. It should be able to rotate 360 ​​degrees and ergonomic grip should help with it.
5. Quick cleaning reduced mess
The painting handle definitely reduces the mess that arises during painting – your hands are clean and the work space cleaner
We guarantee that you will find all of the above features in our holder and you will be satisfied with its handling!
What problems does the painting handle for miniatures solve?
Now or in the past, you have had to use your own hands or hand-made handles to paint your figures. In your hands, you are not able to hold your position for a long time, and the handles you made did not always guarantee stability. Our painting handle will allow you to eliminate the problems you are currently struggling with! The problem of stability, precision of finish, access to all elements or quick replacement will be eliminated by using our handle.
Model holder for painting – reviews
"I've been painting for about ten years now, and one thing I always struggled with was keeping the thumbnail well; to stabilize it, I always squeezed the top of the model, which often leads to paint rub off. Miniature holder changed the rules of the game here – you don't have to touch the model at all. The handle is comfortable and easy to use, and it can be freely modified. Check my all the amazing painting happening on the MPG.  Grip is the same size and the only difference is the size of the models it holds. "
"I fell in love with handle painting from the first time I used it, and MANY of my viewers on my stream have fallen in love with theirs as well. Now that all these great accessories are available, how could you not use and love these products? The magnetic chuck is the perfect tool for contract painters like me who need to quickly switch from model to model during series painting or work harder during a competition. The thumbnail holder is for literally everyone, and I feel it will help raise any skill level! Thank you for such a great set of products! They really changed my painting in a great way! "
"This paint holder has really been a game changer for me! Not only to improve the comfort of painting, but also to improve the overall quality of my work. The handle is just amazing! I no longer have to touch my figurines, spoiling the paint, and the handle has a wide enough area for me to stabilize my little finger while painting the finest details. If that's not awesome enough, adding a large hand grip is just the icing on this already awesome cake. I highly recommend this handle. It is a super comfortable grip for every minimalist! "
"The figurine holder is the perfect addition to the table of any hobbyist. Whether you're a clumsy old good perfectionist, it gives you convenience and precision for your massive painting
sessions, as well as a convenient way to switch between projects. I've been painting for abiut a decade now and I'm so glad I discovered them! It can be used as a hobby holder or to do everyday work. I can hold the handle in any direction without fear of the model falling "
"I have been painting for over 20 years and one of the things I advise everyone is how to hold a thumbnail while painting. The MPG is the best on the market for this. You customize the handle to match the way you paint, and it offers endless possibilities for personalizing your painting. Enter the best grip I have used."
If you still have doubts whether our figure holder will meet all your requirements, write to us! We will try to answer all the questions that were not answered in our description. We also value customer feedback, so if you want to share yours with us, please contact us.