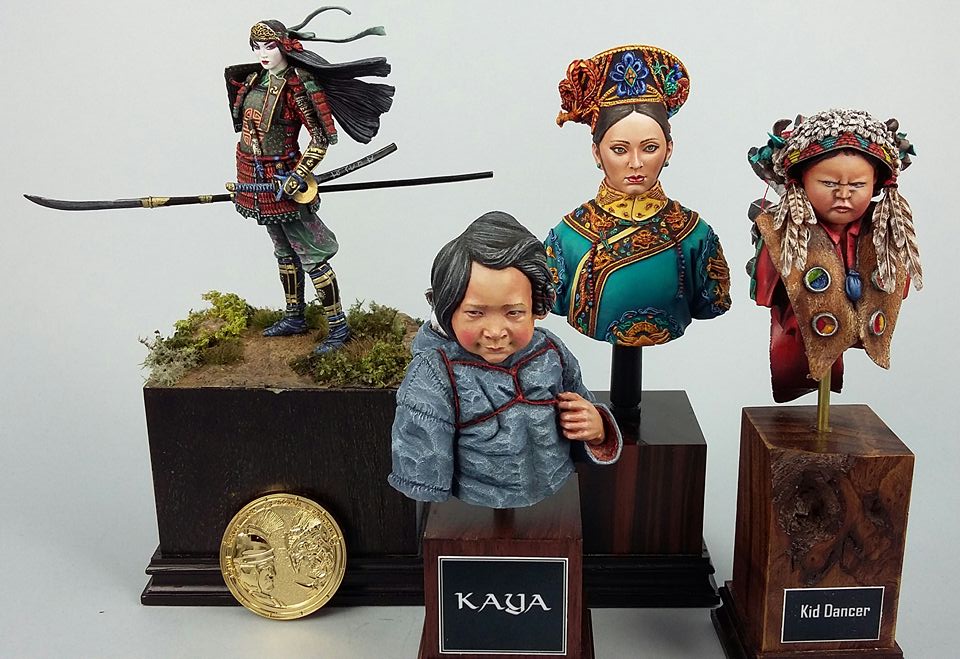 1. Please introduce yourself to our readers and tell us a bit about yourself ☺
I am Margot Crombeecke, 63 years young, mother of 2 children and grandmother of 5 grandchildren.
After some setbacks in relationships, I found my great love 25 years ago, Robert Crombeecke, my support and constant companion.
Unfortunately, I lost my son Marco to cancer 12 years ago and I am still very worried about my daughter who has mental problems.
After Marco's death I had to find my way back into life and partly thanks to Robert and my grandchildren, one of whom is Marco's daughter and another one his son ( I only have one grandson), I managed to do that.
I have always been a very creative person, even at home. I always say that I could knit before I could write 😊
Because of my rheumatism and chronic fatigue I had to look for another hobby, which finally became figure painting, already for 7 years with a lot of fun.
2. Do you remember your first encounter with miniature painting? When was it and in what year?
The year was 2007. As you may know, we organise SMC, which started as a model show with some figures. Only a few years later, when more and more figures were entered in the contest, also of a higher level, I was triggered. But it took another two years before I dared to start. I was afraid of failure. That is what happens to perfectionists
3. When did you decided to launch your website and blog – Stories in miniature? Why did you stopped posting new entries there?
That was Robert's decision and he stopped doing it due to lack of time, but he actually plans to pick it up again in 2021.The show got bigger and bigger and it took up more and more of his time. I myself am not so interested in doing all this. It takes too much time, I'd rather paint. Our personal blog can be found here: https://www.storiesinminiature.com/, but there is also a lot of work, also recent one on our club website: https://www.scalemodelfactory.nl/
4. You went to the Art Academy in Arendonk, how does this affected your painting style? What was the most valuable advice that you have received during your studies there?
The hardest part was sketching and not immediately putting something ready on the canvas. Working with oil paint was the reason for me to go to the academy. I love texture in a painting but I didn't know how to work with acrylics at all.
The best advice I have received is without a doubt learning to look: looking at your object, looking at light and dark. First understand what you see and then try to put it on canvas or now on your figure. Everything I learned there has also had an effect on my figures.
5. Your works are full of colors and life, but they always seems to be perfectly balanced (ex. Kid Dancer or Courtesan Koi). Colors complement each other rather than 'fight' on the model for attention. Do you plan all your projects or kind of paint on the go?
I always have an idea in my head of a colour or mood I want to bring into my figure. Usually I use Pintrest to get an idea of what would be nice for that style of figure.
But after that it's completely automatic, my sense of colour was already my strongest point at the academy. And by always looking at my figure and seeing what it needs, it follows automatically.
I never think in colour theory, in warm or cold, in contrast. Nor do I ever use the colour wheel.
I paint my feelings and that takes little effort. The only thing I focus on is the technique of painting, which I want to improve time and again.
6. What miniature was the most challenging to paint for you and why? Would you paint it again differently if given a chance?
That was definitely Fire of Kimera, one of the four elements. And in hindsight I know why, in doing so I was relying too much on an example and was constantly fighting my feelings. The advice of someone with the best intentions also hindered me. I have learned a lot from this, especially to stay close to myself. And yes, if I didn't want to paint so many other figures, I would want to do it again. But my friend Pietro Baloni, who has been in the business for more than 30 years and works for Pegaso/Kimera, once told me that you should not repaint a figure but take your experience to the next project.
7. You are an Artist, a miniature painter and sometimes diorama builder and story teller. What do you like about our hobby most and why?
What I like most is the freedom to use your creativity. It doesn't matter whether you tell a story or paint a figure. But painting a figure has turned out to be the most fun for me. I don't know why, perhaps because I have become more and more comfortable with it. I think that my story is expressed more and more in my figure without me wanting to explain it in a diorama. And since a while I have been painting more and more with acrylics, so I also see more possibilities to use texture in my work. And that brings me back to my remark in question 4, that I like texture.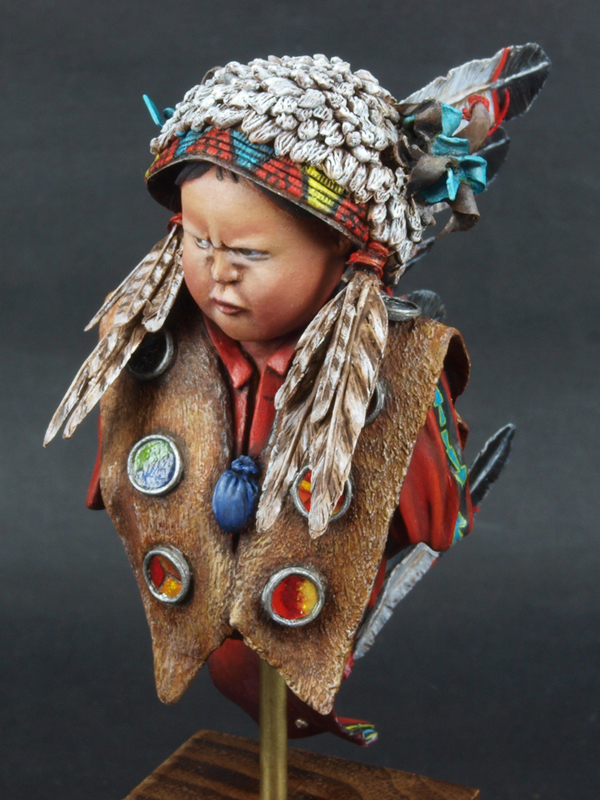 8. Our hobby is constantly changing, new wargames come and go, people are 3D printing miniatures and terrains. Where do you see our hobby in 5-10-15 years' time? What will change the most over time?
That is a difficult question. If I see how it has changed in seven years, it is difficult to predict how it will be in five or ten years. I do think that the quality of the figures will get better and better and that there will be more special figures. The disadvantage of 3D is also that you sometimes see that it is done by people who do not really have experience with our hobby. It can be a fantastic tool to create beautiful things. But sometimes I also see things that are beautiful at first, but when you look at them closely, they are almost impossible to paint because of the complexity or the bad shapes. But 3D is the future. Even though I myself like very much special hand sculpted figures
9. Do you have any advice for new miniature painters? What would you tell someone who is a complete newbie and is simply afraid to start painting miniatures?
Actually, I do have some advice. First of all, beginners should realise that all masters were once beginners and sometimes people still post their first figure. That's so funny and you can see how far you can get. When you see my first figure it is so funny, but I still have it and I am just as proud of it as I was of my last figure. My next big tip is….paint for yourself, for the experience for the feeling that painting gives you. Winning a medal is nice but a snapshot of the opinions of three people at a particular time, under a particular light and with a particular taste. And even if the good judges try to ignore their own taste, I know from experience that this is very difficult. So don't focus too much on competitions, although I must admit that it can stimulate you to go a step further, and in the end the figure is in your cabinet for the rest of the time.
The third tip is, stay yourself. It is great fun to learn techniques from others, but start simple and try to discover your own style. It can be overwhelming to see all the new techniques like NMM but if you don't master it, it's frustrating and it won't be pretty. In the beginning Alexandre Cortina Bonastre, owner of Alexandros models and my mentor in my early days once said to me, it is better to leave it out than to paint it badly.
10. I know that you used to be a Scuba Diving Instructor for some time while living in Egypt. I am curious, what is the best place to dive that you have seen yourself? How was it like to live in Egypt?
Haha, this is the hardest question of the whole interview…….I have seen hundreds of places, from difficult to easy and deep to shallow.
What I will never forget is the day we made three dives on the Thistlegorm, a wreck from the second world war, with a locomotive on the deck and in the hold jeeps and motorbikes, army boots, toilet bowls, you name it. I made two dives by day and one night dive together with Robert and another diver. It's really super when you descend. At first you see nothing, really nothing, and then slowly like in a film, you start to see the shapes and get closer and closer to ….actually that's so special.A second dive that I will always remember is a dive in the Aquarium in Hurghada, not a real aquarium but the place is called that because there are so many fish and corals. At one point, I was swimming in the back of the group, and then I was in the middle of a large school of fish that slowly circled around me, very magical and this place is not deep or difficult at all, but so beautiful. Later, when I worked there, I dived there on my own for half an hour, which is really not possible and against the rules, but yes….it was super cool 😊 after my students had boarded …. to never forget. And I could go on like this for hours, because we made many special dives outside of Egypt as well.
As for life in Egypt, it was born out of necessity, in a time of crisis when Robert had lost his job and couldn't find work and we were in danger of losing our house. But in hindsight I wouldn't have missed it, life was easy and you quickly bond with other dive instructors and guides of all nationalities and after the job you enjoy a drink together on a terrace. Robert worked at a different location than I did and you still had plenty to talk about.For me, the adventure lasted only three months because my son, then 25 years old, called me to say that he had been diagnosed with leukaemia, and so I flew back the next day, not knowing what the future would bring or where I would sleep as our house had been rented. After three weeks I went back to Egypt but couldn't stand it any longer and said goodbye to Robert, again not knowing when we would see each other again. I wanted to be with my son. In the end, after wandering around a bit, I was able to rent a studio and after more than five months Robert was able to come to the Netherlands and he found a job after one week.
But unfortunately, after three years of persistent struggle, I had to say goodbye to my dear son Marco.
11. What hobby project are you currently working on and what are your hobby plans for next few weeks?
I am working on several projects at the same time. I didn't do that for a long time; I always wanted to finish one thing before I started the next. But I have experienced that it is good to take distance from a project now and then, in order to continue later with a fresh look. And sometimes I feel the need to paint with oil and sometimes with acrylic, and so those are different projects. Acrylic is still a learning process for me, I have always been an oil painter. But I am starting to like acrylics more and more. So to answer your question….At the moment I am working on Air, one of the four elements-series, and on Water, also one of the four elements, Dryad , Salvador Dali, Mad Hatter, and soon I will start with an article that I am not allowed to say anything about.
12. If you could turn any movie, series, commix, book or any media into a miniature game what would that be and why this one?
Pfffff I wouldn't know because to be honest I'm not a games person. I read every day, but always thrillers, and movies and series are thrillers too. Now that I think about it, it's strange because I don't really like fantasy series and books, but I do like to paint fantasy.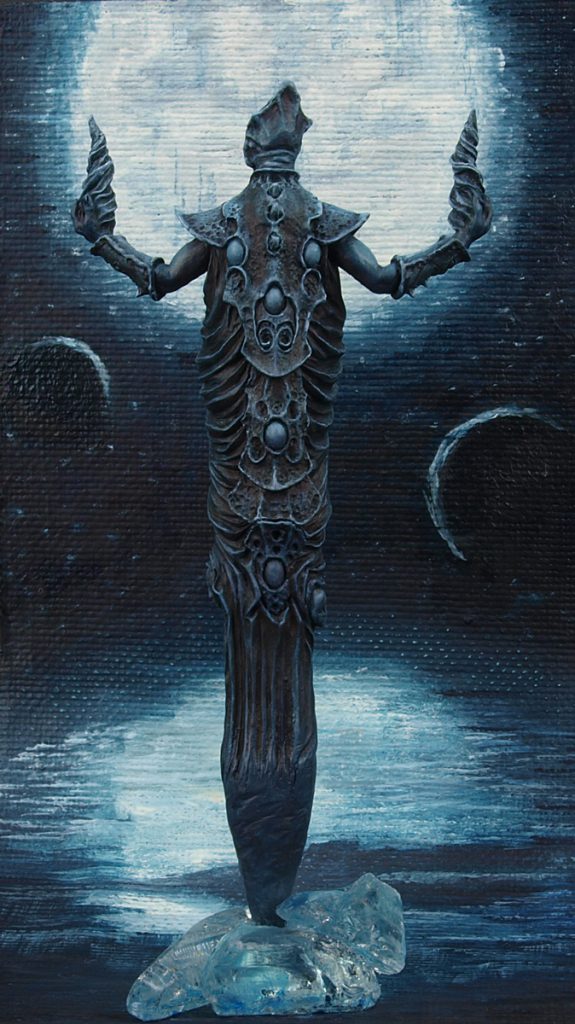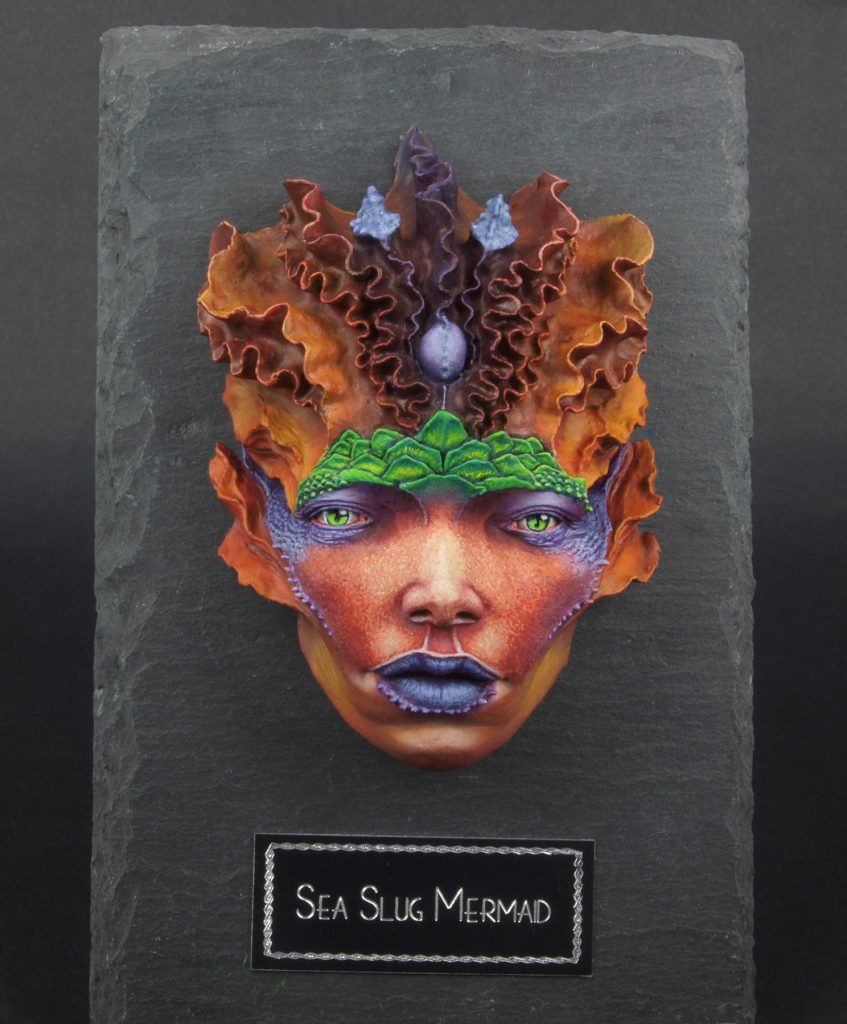 13. Do you have any other hobbies apart from wargaming and miniatures? If so what are they?
As said … I am not a wargamer that is a small misunderstanding. I do have friends who play these games and paint these figures and I think it is fantastic, both the game and the painting.
I have always been creative: forging jewellery, designing and making clothes etc… but now my hobby is painting figures and apart from that I have no other hobbies.
14. I heard that together with your husband Robert, you are co-organizing one of the biggest and best miniature shows in the world, the one and only – Scale Model Challenge. How did that started?
It started well before I started painting. Every time Robert came home from a show he always had comments about what he could do better and how he would do it. At a certain point I told him to give it a try, because I knew he would need my support to take the plunge. Together with a couple of friends from the modelling club they started and very soon it grew and became bigger. Robert wanted to go to a 2-day fair to involve people from outside the Netherlands and a couple of people stopped because they didn't believe it would work. I had also started to paint and started to lobby in the world of figures abroad and very soon that yielded results. Another member of our club, Peter Zuidgeest, started lobbying in the wargame world and so they ended up at our fair with their own area where matches could be played during the show. Also on the contest tables, more and more wargame figures of a very high level ended up, I must say. I can always look at them with great admiration, also to those matches…I just don't understand a thing about it, hahahaha.
https://www.scalemodelchallenge.com
15. How do you transport your miniatures? If you are using one of our products what do you think about magnetized transport solutions?
So, I do use your A-Case. I was one of the first in the world of figures, if not the first and I did a lot of advertising. I think the magnetic solution is the best solution for transporting figures ever…I hate Blue Tac. I have also personalised my case with my name and pins on the shoulder strap. My only problem is that I regularly paint some larger figures and they don't always fit in because of the height. But I try to take the base into account so that it might fit. What I find one of the biggest advantages of the A-case is the weight. Those heavy wooden boxes are a problem for me when I travel. I'm not as strong
16. If you could choose the next person answering all those questions and having an interview with us who would that be?
Again a difficult question, but I will give a few names that I think the readers will find very interesting and maybe even closer to their world than I am 😉
Peter Zuidgeest, Kirill Kanaev, Fabrizio Russo…..
Thanks for this interview
Hugs ( hugs are my trademark 😊)))))))Margot